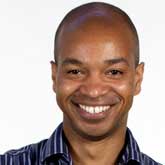 David Dunkley Gyimah, senior lecturer and media consultant, was one of the first video journalists in the UK.

In 2005 his video-driven news website viewmagazine.tv won first prize at the 2005 US Batten Award for Innovation in Journalism.

He writes here on the future of video journalism on the web:

It's happened. Online newspapers are morphing into broadcasters (i.e. broadbandcasters) and broadcasters are upping the ante embracing social space, blogs, and HD in their attempt to confirm they're still the glue binding us together, particularly on global events. Gradually, the digital reformation playground is crystallising.
The super-sizers: publishers, broadcasters and their marketing budgets have moved in. Splash and viral ads, pay-as-you go Google-link popularity means that while small bodies, individuals and independents will still publish online their 'comment' tags may go untouched.
The real risk exists for small producers oxymoronically being 'crowded out' of this vast space.
Competition for eyeballs is getting tougher as there are just so many sites for your average
netizen
to visit. The key to success? Aggregate; build a city like
Global Voices
or atrophy.
With broadband set to ape television the sad prospect of a digital winter for diversity looms.
That's if satellite and cable TV's story in the 90s is anything to go by. There will be
more-of-the-same
in online content production, rather than an explosion of original material.
How many new sites launched today will be capable of replicating the singular success of Tarek Atia, who founded
Cairolive.com
in 1996?
The news site, which he still edits, ranks 22,000 in global
Google
popularity. But if it were created today would it stand any chance of becoming popular?
The last year has seen a maturity of video on the net. Its accessibility - youtubeness: taut, short, often sensational pieces - has rekindled interest in video journalism.
Video journalism - whose birth in the UK more or less, coincided with the net's breakthrough - has become a pre-pubescent teenager.
Back at its inception I recall the struggle, speeding through London, lugging a betacam, vinten tripod and brick tapes.
We've learned it's simply not enough now to lift the single source offline product online. Now, a matrix of video clips from non-professionals recording major and minor stories has proved, by the audience it commands, to possess potent news value.
The aesthetic of video journalism has grown too, mirroring the disciplines of photojournalism and motion graphics rather than traditional news reporting.
The story composition, a penchant for an up-close and personal style, inverts and re-invents the template of broadcast news - and all this from a wafer thin laptop and often from a solo journalist.
From video journalism we have realised a new skill - repurposing. Shoot, cut, mix, code, publish was the slogan I presented for Apple UK at this year's broadcast Live event, because from video, you can now publish in a multitude of ways on multiple platforms.
We're stripping the film for the audio podcast, the promo, the viral campaign, the article and the series of still images for the multimedia display.
In short we're cannibalising an old CNN newsroom adage and updating it: 'kill what you can eat, no waste!'
A scheme I have enjoyed playing a central part in this year has been the
Press Association's
video journalism programme, which is geared towards the regional press, transforming journos on big regional papers into visual essayists.
It's a quiet revolution gaining much speed.
For the time being we're still wedded to the format of news/features as an interstice of often multiple sourced pictures and one narrative voice.
I hope to see more experimenting with video hyperlinking, where users/other journos can attach generated video comments, and video paste into
blogs
.
This, I hope, will lead to more remote reportage where multiple sources create a report that will put an end to the oft-knocked
parachute journalism
debate.
Some of the last year's highs for
viewmagazine.tv
include video exclusives along these lines - an interview with
Victor Bulmer-Thomas
, Chatham House director, just after 7/7, and Rachel North - one of the bomb's survivors, filming and acting as news editor for Nato's Global War Game.
Stories on new creative film talent such as
Rob Chiu's
film
black day to freedom
, illustrate how creative people are finding a contemporary expression online and adding to the mix.
It is projects like these, along with sites like
Current.tv
,
Resfest,
OnedotZero
, and I hope even viewmagazine.tv that demonstrate the door's still open for diversity in a pluralistic environment, but creativity is key.
But for this to really happen we need to realise that vloggers, bloggers, videocasters and mashers are an addition to the news status quo.
We need to acknowledge that technologists have become as integral to story telling as traditional scribes.
Richard Deverell, former BBC Head of New Interactive, once said to me 'we're still probably not using the net for anywhere near its use'.
He's right, which means there's still reason to be excited about the future and perhaps that's where the internet on public space visual interfaces - the outernet - will come into its own.
Free daily newsletter
If you like our news and feature articles, you can sign up to receive our free daily (Mon-Fri) email newsletter (mobile friendly).