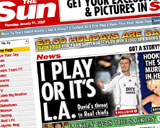 Sun online
registered 1.2 billion page impressions in 2006 with individual readers from around the globe visiting the site 160 million times.
Britain's biggest-selling daily paper also claimed 56 million new readers to its website.
In the past year a number of Web 2.0 features have been launched, including video content, podcasts, blogs, RSS and mobile technology.
In October, the community pages of MYSun were launched allowing readers to discuss and comment on stories.
The Murdoch-owned site also launched a classified listings section called Sun Local and broke the story that Gordon Brown's baby boy Fraser had Cystic Fibrosis.
Sun Money is to be overhauled over the next 12 months to include top tips on money saving and free deals, a huge campaign to 'get Britain saving' and more help for homeowners trying to climb the property ladder.
Sun insiders say the site is also re-launching Page3TV to augment the recently launched Sun World TV travel video site.
An online gardening forum has also been launched to enable readers to share tips with columnist Peter Seabrook.
Pete Picton, Sun online editor, said: "The growth of the Sun online over the past year has been phenomenal but it wouldn't have happened without the input and creativity of the team.
"It has been their ideas which have helped make The Sun No1 for news and entertainment in the UK.
"The success of our commercial products such as Sun Bingo, Diet, Local and Singles show we know what the readers want.
"And the readers have helped build the site. Thanks to the launch of MYSun this year, readers can now write for the Sun and it is their contributions that have helped make us Britain's best-read website."
Free daily newsletter
If you like our news and feature articles, you can sign up to receive our free daily (Mon-Fri) email newsletter (mobile friendly).