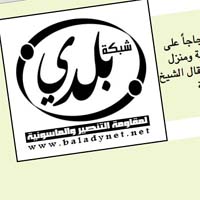 Egyptian authorities have arrested the second online journalist in six weeks, closing his website and confiscating work material.
Ahmed Mahmoud Abdallah, also known as 'Abu-Islam', is editor of the
Balady Net
news site and former editor of the now defunct opposition newspaper Al-Shaab. He is a member of the Union of Egyptian Journalists and head of the Centre for Islamic Enlightenment, a project that aims to encourage different religions to work together.
Mr Abdallah was arrested in Cairo on 5 December by state security agents.
"Website journalists and bloggers should enjoy the same legal protection and respect as journalists working for traditional media," said a spokesperson for press freedom group
Reporters Sans Frontières
.
"The decision to arrest a journalist or blogger is serious and should only be taken in the course of transparent judicial proceedings."
In October, 21-year-old law student and blogger
Abdolkarim Nabil Seliman
was detained for three weeks for criticism of the government and Islam. He campaigns against violence and discrimination towards Muslim and Arab women.
More news from journalism.co.uk:
Bloggers rally to support voice of dissent in Iran
Free speech documented online
Advice on hand for dissenting bloggers
Free daily newsletter
If you like our news and feature articles, you can sign up to receive our free daily (Mon-Fri) email newsletter (mobile friendly).