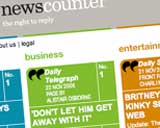 A website has launched as an alternative to the 'ineffective'
Press Complaints Commission
(PCC), providing a right to reply for people and organisations featured in controversial newspaper stories.

Newscounter
aims to increase public trust in the media and improve the quality of debate by providing a quick way for organisations to respond to stories about them.
"The PCC is too slow and it's ineffective. Too many people view it as too much of an aggressive option... what we provide is something that is immediate and not as confrontational," said Matthew Cain, Newscounter's co-developer.
He added: "There is still a role for the PCC, obviously there is still a role for the law, and there is still a role for writing letters to the editor and other things that people do. This is just a different way, and I would argue a quicker and more open way, to get your side of the story on the record."
In the interests of providing a right to reply of its own, Journalism.co.uk contacted the PCC. The commission refuted the suggestion that it was slow and ineffective.
"We regularly survey our complainants anonymously and we generally have a high approval rating both in terms of the service received and how long it takes to provide it," said Stephen Abell, assistant director of the PCC.
"The process of resolution of the complaint can end up bringing the sides closer together... the solution of a disagreement is a way of settling differences rather than encouraging antagonism. So it's actually decided as a non-confrontational process," he added.
Newscounter highlights what it perceives as unbalanced national newspaper reporting. Individuals or organisations mentioned in the stories, or the journalists themselves, are then able to make unedited responses on the site.
"We're never going to editorialise, pass judgement or comment on whether one side is more right than the other or what motivates one side. We provide a space that is unmediated and where people can judge for themselves," added Mr Cain.
Yet, responders will eventually have to pay for the privilege of engaging in the debate and developers would not disclose how much this fee, once it is in place, would be.
In addition the site's only public involvement is to allow voting on whether a story is in need of a response, and then if one is made, to allow voting on what is the most plausible version.
Newscounter - which launched in a beta version three weeks ago - does, however, have plans to create greater public involvement and expand coverage beyond the national papers.
Free daily newsletter
If you like our news and feature articles, you can sign up to receive our free daily (Mon-Fri) email newsletter (mobile friendly).