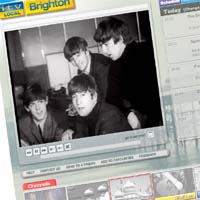 ITV
's three-month trial with local web TV has tapped into a wave of 'activity and regeneration in the local TV market place', according to ITV's head of emerging technology, Simon Fell.
He told the
D-Media
conference in Brighton on 1 December that even six months ago he did not believe TV could be delivered effectively through the web. But the rapid take-up of broadband and advances in streaming technology have opened new opportunities for broadcasters looking to expand their audience online.
The
itvlocal.tv
trial covers only the Brighton and Hastings areas of ITV's
Meridian
South-East region, and combines news footage with content submitted by readers and video classified ads. Since its launch on 17 October, the site has been viewed in 70 countries.
Meridian is planning a range of local TV services but launched the first pilot for Brighton and Hastings seven weeks ago. Viewers are presented with an interface based on
Windows Media Player 10
which offers seven content channels including news and sport, weather and travel, what's on and documentary-style pieces on the 'My Brighton' channel.
The site asks local bands to submit footage for the video jukebox and also invites short fiction films for a section curated by the government-funded film agency
Screen South
. Average viewing time on the short film section has been 20 minutes per viewer.
"There is an awful lot of content out there waiting for an outlet - a reservoir of potential creativity," said Mr Fell.
"We have said to the local community - give your content to us and we'll give you an access point."
The network of regional ITV stations produce around 60 hours of broadcast-ready material each week, said Mr Fell, but only around 5.5 hours of this is broadcast. itvlocal.tv provides an outlet for all this content.
"We produce a huge amount of material that never gets aired," he said.
"For the first time in 50 years Meridian's news is available 24 hours a day."
Users have also submitted content to the video classified section, including a local paragliding school, recording studio and surf shop. Depending on the results of the trial, the classified content could be monetised in the same way as conventional TV ads either as five or 10-second spot ads between programmes or through sponsorship.
"The trial is designed to tell us how people respond to the ideas of video classified ads," added Hannah Bailey, spokesperson for ITV.
"One really good example was a horse for sale, which makes sense because you can see it move and see that it is healthy. Sites like
eBay
are very popular but this is more flexible."
The popularity of eBay, combined with better picture quality, made the time right for the local TV project.
"There have been a lot of advances in technology, particularly streaming TV online, and previously we'd been hesitant to put our brand on something that wasn't good quality," she said.
• The BBC launched a pilot for its local TV project on 1 December.
BBC Local TV
was introduced in six areas in the West Midlands. Video journalists work in each area producing news, travel, weather and entertainment footage alongside content from the local community.
Ten-minute bulletins are broadcast online every hour and on BBCi, the digital satellite TV channel.
A number of independent services have also sprung up including
TVBrighton
and
Felixstowe TV
. Both offer broadband TV news services for their local community.
More news from journalism.co.uk:
UK broadband market booms
BBCi 'threatens' local papers
BBC builds new audiences for local news
Free daily newsletter
If you like our news and feature articles, you can sign up to receive our free daily (Mon-Fri) email newsletter (mobile friendly).