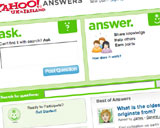 Yahoo! will later this year launch a module that will allow a 'read and write' version of
Yahoo! Answers
to run on third party websites.
Yahoo! currently has a module that allows Answers to run on separate sites; however, when a user wants to engage they are redirected to the Yahoo! site.
The new version will allow editorial and community based sites to have a dedicated interactive Yahoo! Answers feature specific to the content of the site. The process will work through tagging.
Yahoo will then duplicate the content created back in Yahoo Answers to enhance its base of collective knowledge.
Stephen Taylor, regional vice president of Yahoo! Search and Search Marketing, made the announcement yesterday at a meeting of the UK
Association of Online Publishers
(AOP) in London.
He also said that social search will transform the way consumers hunt for things on the internet and estimated (somewhat grandly) that there could be as many as 350 trillion potential web pages of knowledge in existence.
"We really want to start thinking about how people can share that knowledge. If I find something that is valuable to someone else is there a way for me to share that knowledge?" he said.
In December Answers had 10 million unique users in the US, he said. He also cited the introduction of social search into Taiwan as an example of how search will change away from the dominance of the algorithmic standard.
He claimed that since introduction to Taiwan in the latter part of 2005, social search has enabled people to find things not easy to get through traditional search and had increased Yahoo! market share by roughly 50 per cent. A position where it now has 71 per cent of the search market.
He added that, although Answers started as a search tool, it has quickly developed into a knowledge-based community gathering around subjects of interest where the best 'answerers' had become like eBay 'power sellers'.
He also said that Yahoo! would be looking to develop more community-based features and a string of new products around the shared knowledge developed through Answers.
Mr Taylor speculated that Yahoo! could eventually begin creating rich media pages 'on the fly', an 'infinite number of properties based around content'.
Free daily newsletter
If you like our news and feature articles, you can sign up to receive our free daily (Mon-Fri) email newsletter (mobile friendly).